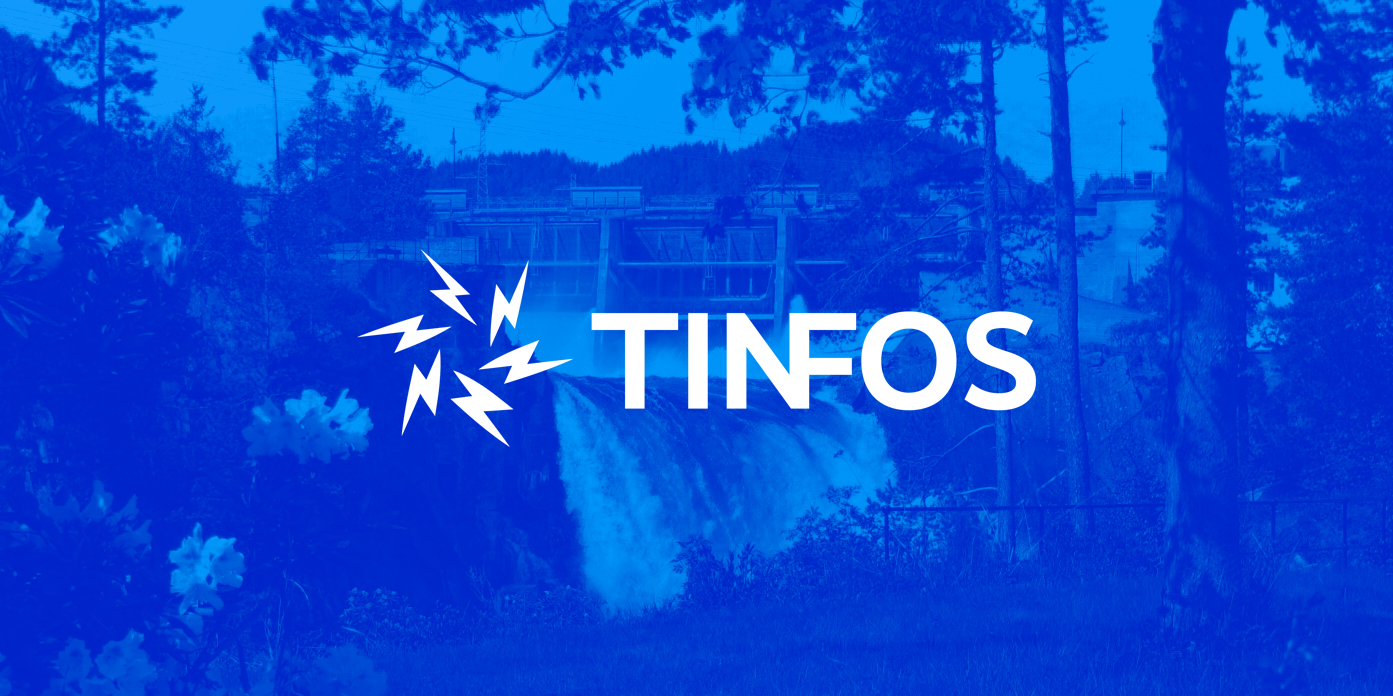 20.01.2022
Tinfos' new look
Finally, Tinfos can showcase its new visual profile. Brand new logo and updated websites will help strengthen Tinfos in the time ahead.
Since the sale of the smelters in 2008, Tinfos has worked to further develop the company's focus on renewable energy, especially in hydropower. A new vision and mission has been developed where clean energy is in focus.
– Our new vision aims to help accelerate the transition to a renewable society, says CEO of Tinfos, Øyvind Frydenberg. – Now it's time for the visual profile and our website to reflect that.
With a focus on clean energy
The new logo alludes to the shape of an impeller, while the lightning refers to the electric power that is produced in the hydropower plants. At the same time, the logo points back to previous historical Tinfos' logos.
– We are very pleased that the new logo both shows our focus today while being inspired from Tinfos' history, says Frydenberg.
For Tinfos is a company with a long history, in fact dating back to 1894. The first power plant at Notodden was one of the world's oldest, and today's power plants Tinfos I and II have been in operation since 1955 and 1911, respectively.
In addition to ensuring stable and safe operation of power plants, the focus area going forward for Tinfos will be to develop more hydropower plants both at home and abroad, with a special focus on Indonesia and the Western Balkans. The work with the new website and the new profile will be an important contribution to making Tinfos visible in the future.
New visual profile
We have a lot of expertise at Tinfos, but when it comes to visual profile, websites and brand strategy, we needed some professional assistance. Tinfos therefore engaged the communications agency Godt Sagt.
– The work with the project group in Tinfos has been rewarding throughout the process. We have had the pleasure of working with an interdisciplinary and very competent and engaging group. Through project meetings and regular status meetings, we have pushed each other towards a good joint result. The collaboration with Tinfos has been based on trust, openness and commitment, says managing director of Godt Sagt, Erik Gabrielsen.
With the help of workshops, the development of the brand strategy and new visual profile progressed slowly but surely. The work has also resulted in new and future-oriented websites.
– It has been instructive and exciting to work with Godt Sagt with the preparation of a new profile, says Ingrid Amundsen Welde, project manager at Tinfos. – The collaboration between Tinfos and Godt Sagt has been very good, and we are very pleased with the final result. We look forward to showing Tinfos' new look!