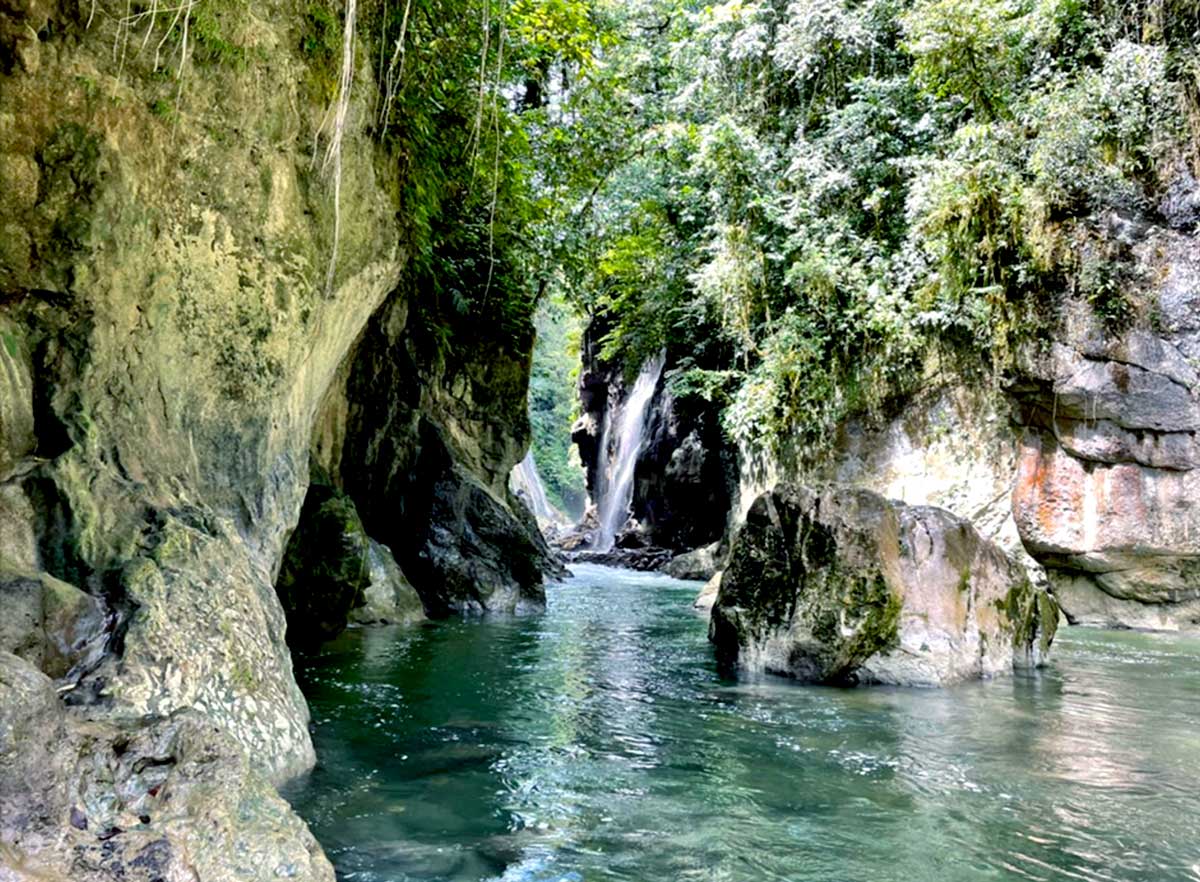 25.01.2022
PT Lobu Dolom Hydropower
Tinfos AS through its special purpose vehicle subsidiary PT Lobu Dolom Hydropower holds the license and permits to develop, construct, and put into operation a 12 MW installed capacity hydropower project in Banggai region, Sulawesi, Indonesia.
Picture: Taken from PT LDH intake area.
Tinfos AS has decided to develop, construct, and operate hydropower plants on an international basis since the green certificate in Norway is ending, and that number of new powerplants is decreasing in the year to come, hence the Board of Directors in Tinfos has decided to strengthen the international focus by concentrating in the countries of Indonesia and western Balkans to expand market where Tinfos is going to operate.
Development status of PT LDH
– Process is going smoothly, and PT LDH is making good progress to reach an agreement with PLN of delivering clean and green electricity out of this location within three years' time, is telling pak Angga Imban, Project manager.
Pak Angga also states – Process of creating and performing reliable data of hydrology and topographic measurement is well underway, and currently the focus is to finalise the Environmental study (AMDAL) along with the full Feasibility study in end of May 2022.
Picture: PT Tinfos Hydropower Solutions team
– Establishing a local company in Indonesia has helped us well through the pandemic situation that has been ongoing for the past 2 years, and it has been possible to make great development progress regardless of whether it has been possible to travel from Norway to Indonesia during this period, says pak Fred Kanton President Director in Tinfos.
Partnership structure
The project is being developed in good cooperation with Norad which is the Norwegian Agency for Development Cooperation www.NORAD.no.
The construction of the plant will be co-shared by our investment partner Norfund www.NORFUND.no which is the Norwegian Investment Fund for developing countries. Norfund's mission is to create jobs and to improve lives by investing in businesses that drive sustainable development.
The project is also co-shared by local partner pak Suryo Sulisto.
Continuation of international focus
Tinfos emphasizing through its president director of PT Tinfos Hydropower Solutions, pak Fred Kanton says – We will continue to invest in Indonesia to increase access to clean energy and help Indonesia reach their renewable energy target within 2030 to secure a sustainable future. Currently there are many prospects being investigated which Tinfos is open to invest and take majority shares in. If you have projects that are on the RUPTL or reach PPA negotiations with PLN, please feel free to contact our Business Development Manager pak Rayner Adriaansz for further discussion.
PT LDH Project generic details
Power and Energy
Installed Capacity
12 MW
Yearly Production
Annual Energy. 79 GWh
Annual parasitic load (auxiliary). 3.95 GWh
(Assumption of 5% for internal use)
Potential Annual Energy to off taker
75 GWh
Gross Head
Net 150 meter
Hydrology and Production
Run of River plant
Classification – PLTA
Discharge
Average 11,28 M3/s
Planned 10 M3/s
Flooding
2nd. year. 144.81 M3/s
50th. year. 407.09 M3/s
Contact details for further information about this news item
Fred Kanton, President Director, fred.kanton@tinfos.no, +47 911 96 470
Rayner Adriaansz, Business Developer, Rayner.adriaanz@tinfos.no, +62 812 8208 7831
Head office Indonesia:
Menara Rajawali 20th floor, JI. DR Ide Anak Agung Gde Agung Lot #5.1, Kawasan, mega Kuningan, Jakarta 12950. +6221 5795 6997